Foley, Gulf Shores/Orange Beach, and NW Florida
Page Updates
----------------------------------------------------------------------------------------------------------------
December 29_24_18_9_4, 2020 updated Kenn's Emails.
November 23_8, 2020 important messages from President Kenn in Kenn's Emails.
Sept. 19_17_16, 2020 added front page updates for Hurricane Sally.
Sept. 19_09_07_03, 2020 updated Kenn's emails for Sept./Summer 2020 and the Google Calendar.
July 29, 2020 updated Kenn's emails for Summer 2020 and Summer Lunches canceled.
May 3, 2020 updated Kenn's emails for May-April, 2020
March 31_20_15_9_3, 2020 updated Kenn's emails for March 2020
March 12, 2020 updated Home Page with 2020 Scholarship winner photo.
March 12, 2020 updated Golf-Cards-Singles with Singles lunch March 9 pictures.
March 12_9, 2020 updated Meeting Photos and 2020 Event Photos
February 28, 2020 added photos to Meeting #4. Thanks to Rob Wichmann for taken photos.
February 22, 2020 updated Fundraiser Photos (LCB 2020)
February 19, 2020 added photos to the Wisconsin Snobird Club picnic.
(re-posted 11-29-2019) Gary Durgin, WI Snobird Club, delivers Walmart gift cards to Erica Hall, Supervisor of Foster Children Program in Baldwin County on November 26, 2019. The Wisconsin Snobird Club collected $1,875 at the January, February and March meetings earlier this year for the Angle Tree project.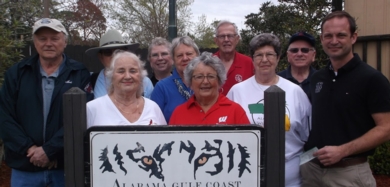 (re-posted 12-21-2019) The 2019 Low Country Boil chairpersons presented a check to the Alabama Gulf Coast Zoo for $6,500. This brings the fourteen year total to $83,950. The Low Country Boil was held Friday, February 22rd. Twelve Snowbird State clubs participated in the day. Pictured presenting the check are Dave Morris ND/SD, Bob Hofacker (hidden) & Gayle Hofacker OH, Kim Dahlgren General Manger of Zoo, Joan Jansma MI.,Joann Rothmeyer, Kenn Krouse WI., Connie White IA., Frank Panczyszyn, NY and Dr Adam Langston, director of the zoo. Next years Low Country Boil will be held at the new Zoo on Friday, February 21st 2020.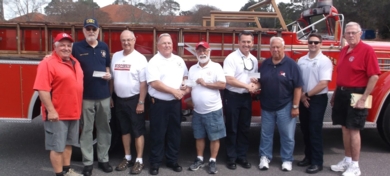 (re-posted 12-21-2019) Check presentation to the three Pleasure Island Fire Departments: Fort Morgan, Orange Beach and Gulf Shores. Pictured are Mike Gordee presenting a check to Fort Morgan Chief, Glenn Stevens, Duke Schueller looking on. Orange Beach Division Chief/Fire Marshall, Craig Stephenson accepting the check from Paul Brown. Melvin Shepard, Gulf Shores Battalion Chief, receiving the check from Jim Mills. Austin D. Lesinger Gulf Shores Fire Medic and Kenn Krouse, Wisconsin Snobird Club President looking on. The Bob Gilray 2019 Memorial Brat Fest donated $2,400 to the three departments.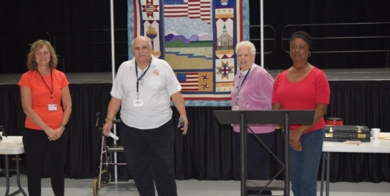 (re-posted 12-21-2019) 2019 Bowling Tournament quilt winner. From left are the winner of the quilt Wisconsin Snobird Julie Nelson of Pickerel, WI, Chairpersons of the tournament Tony and Linda Schwanda and Pam Cook representing Gulf Bowl.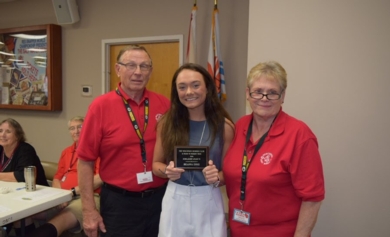 (re-posted 12-21-2019) Scholarship 2019- Congratulations to our 2019 scholarship winner Brianna Ennis pictured here with co-scholarship chairs Glen & Letha Seering. At the last meeting of 2019 we presented Brianna a $1,000 check. Brianna will be attending University of Alabama.